Pack your bag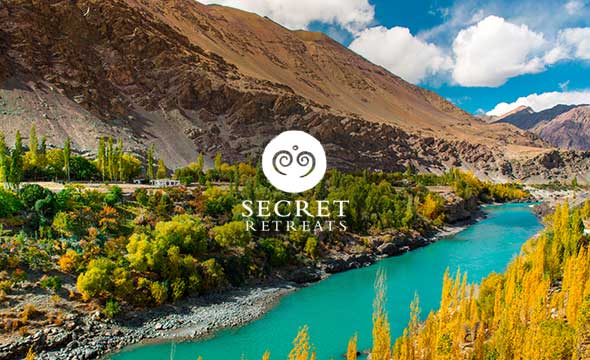 and leave the hustle and bustle of your daily grind behind and head for a destination that offers you opportunities to relax, refresh, renew and revive while bathing in nature's beauty.
As the winter ends and spring is sprung, the cycle of life turns to planting, to awakening, to renewing and reviving life in all its rich variety in the homelands of many ancient cultures in Asia. As nature awakens with the passing of winter, like a blessing from Mother Earth one cannot help but feel renewed and revived when witnessing spring breathe life into the wilderness and countryside.
Asia is home to spectacular highlands and majestic mountains, perfect environments for reverie and activity. Whether you enjoy activities like hiking, fishing, rafting and mountain biking, or moments of reverie through yoga, meditation, luxurious picnics or discovering ancient cultures, the hills and valleys of Asia can offer you all of this, and so much more.
In this and next week's edition, Secret Retreats is teaming up with our friends and partners at RARE India. Likeminded souls who are as passionate as we are about hospitality that re-defines luxury in the qualities of the uniquely Asian travel experiences that we curate and share with our travellers, encouraging regenerative tourism with every step of every journey we create for you.
Secret Retreats and RARE are thrilled to announce the opening of Qayaam Gah in Srinagar, J&K. Timed perfectly for Kashmir's benign summer, Qayaam Gah by ABChapri Retreats is all set to open on May 5. Designed with utmost respect to nature, Qayaam Gah with just seven rooms and suites is unique and mysterious and awaits your exploration. Congratulations ABChapri Retreats. Discover gentle walks in Kashmir.
Insight from RARE:

We love the shift away from standard designs of traditional houseboats yet taking nothing away from the beauty of living in a houseboat, its location, and its experiences.
Cradled between the mighty mountain ranges of the Great Himalayas and the Pir Panjal, discover the Valley of Kashmir with its warm hospitality, rich culture, and pristine nature from the luxury of the Sukoon Houseboat. Moored on the beautiful Dal Lake, the 5 cabin Sukoon Houseboat is the grandest of the traditional houseboats on the lake, sharing a truly serene atmosphere with guests.
Insight from RARE:

A living palace like no other, staying here is as much a contribution to its preservation as it is to experience the heritage of design and culture.

There is no place in Ladakh where you can enjoy the seasons as you can here. From the blossoming of the apricot flowers to the slow freeze of the small streams, every season is a beauty.
Built by the rulers of the Namgyal Dynasty as a summer residence over 200years ago, the enigmatic Stok Palace, is still owned, conserved, and managed by the Ladakhi Royal Family today. Overlooking the Indus Valley, Stok Palace is a wonderful example of a Ladakhi fortified palace, with its royal apartments, prayer chamber and courtyards beautifully preserving this uniquely Ladakhi heritage. The palace offers 6 rooms and suites, including the magnificent Queen's bedroom and 3 beautifully and sustainably built Villas, Chulli Bagh, using traditional mud and wood construction, which are located in the palace's shady and fragrant apricot orchard.
Insight from RARE:

The uncluttered design and total commitment to sustainability and how they work in this exceptional retreat are remarkable. Their passive solar design is a lesson for future hotels to incorporate sustainable practices at the design stage without compromising on quality.
Situated in the heart of the Nubra Valley lies a garden oasis called Lchang Nang or The House of Trees. This delightful property exemplifies eco-lux with its wholly sustainable construction blending harmoniously into its valley home. The 17 cottages are built in the traditional way with mud bricks and elm wood and less traditionally but certainly sustainably, powered by the sun. Set within an orchard of apricot and apple trees near the rushing waters of the Siachen River, trek the valley visiting natural wonders and ancient Tibeto-Buddhist monasteries, then end your day swapping stories by the fireside under the milky way.
Insight from RARE:

An exceptional plantation stay, the names of the suites and weaving the tea story into every detail of Estate has been a game-changer.
The Glenburn Tea Estate is a family-owned tea plantation that has been creating the world's favourite brew for 160 years and counting. Located in the hills of Darjeeling enjoying breathtaking views of Kangchenjunga and the Eastern Himalayas. With 9 rooms and suites a stay here is filled with genteel old-world charm.
Our teams on the ground in each of our Asian destinations are ready to start planning your next holiday in Asia. To explore these properties and enjoy the nature that surrounds them, contact the Secret Retreats Concierge
Unveil the Essence of Asia today with RARE India and Secret Retreats.