We are pleased to welcome Visit Maldives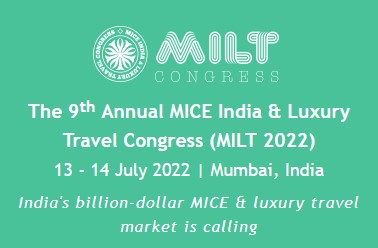 once again for th9th Annual MICE India & Luxury Travel Congress taking place on 13th – 14th July in India's financial powerhouse,
Mumbai 2022 is the year of revival for the MICE industry globally and the Indian MICE and business travel market is estimated to reach USD 93 billion by 2030, with its outbound tourism market worth USD 45 billion.
The Indian MICE industry professionals are confident and feel well equipped to plan even complex events. The requirements for the year 2022 – 2023 has already been set and the search has begun!
Mixing business with leisure is high on the agenda for Indian corporates and agencies in the new normal and Maldives is unparalleled in offering that quintessential 'laid-back' atmosphere for thought provoking and stimulating discussions.
Last year at the MILT Congress, Visit Maldives launched their "Redefining MICE" global campaign and for 2022 and beyond they are all set to share exciting offerings to convert any MICE activity from sombre to exciting.
Join The Maldives Marketing & Public Relations Corporation (MMPRC), the National Tourism Office of Maldives, recognized and awarded as the World's Leading Destination two years in row in 2020 and 2021, on the strongest platform for connecting Indian MICE, Business and Luxury Travel vetted buyers to international suppliers through focused pre-arranged B2B appointments.

If you would like to cater to India's top MICE & Luxury Buyers segment, register your interest now by sending an email to [email protected]
Kind regards,
Laura Zain, Marketing Manager | MICE & Luxury Travel Series
Tel: +971 4 388 5545
[email protected] | www.miltcongress.com | www.qnainternational.com
Follow us on a global platform – @QNAInternational #MILTCONGRESS
Facebook | Twitter | Linkedin | YouTube | Instagram