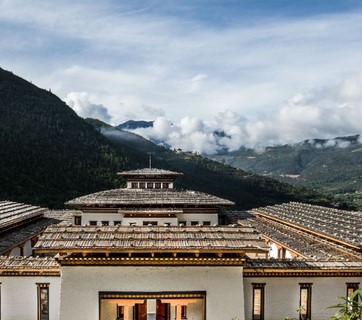 The Restful MInd.
The main purpose of the restful mind is that we have more room for and capacity to love: to let ourselves care very deeply and then live life accordingly.If we can let go of being so strongly attached to how we think things and people should be, then we can be even more generous in our love, a love for which we ourselves are thankful every day.
His Eminence Gyalwa Dokhampa in
"The Restful Mind, a New Way of Thinking, a New Way of Life".
The Restful Mind philosophy is infused into the daily life at the Sanctuary.
INTERVIEW WITH LOUK LENNAERTS,
FOUNDER BHUTAN SPIRIT SANCTUARY
When did you first visit Bhutan and what was your impression of the Kingdom?
I first visited Bhutan in 2011. Together with a friend who had been there before and who shared his fascinating stories about Bhutan with me. I had become very curious.
After living in Vietnam for almost twenty years and working hard, I felt I needed a change in my life. It was in Bhutan where I learned about the ´restful mind´ and where – for the first time in my life – I experienced what that feels like.
What made you decide to develop Bhutan Spirit Sanctuary?
I felt an urge to develop a new kind of hospitality project, not the usual luxury resort as I had done before. I wanted to develop a place, where guests would feel part of the destination, and not a tourist.
In my view, Bhutan had (and still has) everything today´s traveler is looking for: ancient culture, pristine nature, profound spirituality, a tradition of herb-based healing, and a focus on wellbeing. Today's travelers want to be involved, they want to experience the essence of a destination. I wanted to develop a place where travelers can find the peace to let go of the daily craziness and find a balance between their body, mind, and spirit.
Why is the Sanctuary unique, in your view?
There are a few things that make the Sanctuary unique. First of all, it is our concept of inspirational hospitality. I see the Bhutan Spirit Sanctuary as my home, and together with my team, we do our best to make guests feel at home.
Secondly, we are the only all-inclusive luxury resort in Bhutan, offering our guests complete relaxation because every aspect of their stay is already paid for. Ranging from a free consultation and treatments by the in-house traditional medicine doctors, 4-course lunches, access to an indoor heated infinity pool, daily wellness treatments, yoga classes, guided herbal walks in the gardens, meditation sessions, pottery classes to 6-course dinners, and much more.
What do you wish for the future of the Sanctuary?
I hope we will be able to welcome guests soon. After almost two years of closure, we are all looking forward to doing what we are good at and what inspires us: taking care of guests in the best possible way to ensure they can experience the essence of Bhutan.
I hope more and more people will learn about all Bhutan has to offer, and I wish they will take the time to engage with the Bhutanese people, learn about their culture, enjoy nature and experience the real Bhutan.
Snow in Bhutan, making a winter wonderland of the Neyphu valley – February 2022.
Trans Bhutan Trial
Both CNN and Forbes reported about the Trans Bhutan Trail: a former Buddhist pilgrimage route connecting sites in Bhutan and Tibet. The reopening of the 250-mile path is planned for March 2022. Travelers who follow the entire trail route will cross 18 major bridges and climb 10,000 stairs.
Top 100 trends 2022
We were delighted to be featured in the Wunderman Thompson Intelligence presentation "The Future 100: Trends and Change to Watch in 2022," their essential trend almanac offering a snapshot of the year ahead and the most compelling trends to keep on the radar. See page 57.
A Yak in the Classroom
Bhutan's first Oscar entry in 23 years, Pawo Choyning Dorji's feature debut "Lunana: A Yak in the Classroom" had an unusual journey before ending on the shortlist for Oscar International Film. The movie was made on solar batteries and shot for three months in one of the world's most isolated human settlements with first-time actors and an amateur crew.
Meanwhile, at the Sanctuary, Bhutanese painters are decorating the walls of the treatment rooms with traditional Bhutanese symbols. Our Wellness therapists will tell you all about the meaning when you visit us. Please click on the above picture for a short video of the works.
TRAVEL RESTRICTIONS BHUTAN
Contrary to what we had hoped for, the 14-day quarantine in a government-appointed facility is still mandatory for all people entering Bhutan, even for fully vaccinated people, and people with Bhutanese nationality. We had hoped that these travel restrictions would have been lifted at the start of 2022, but contrary to that some parts of Bhutan have gone in lockdown again because of the arrival of the omicron variant in the country. We have not yet received official communication from the Bhutanese government about the reopening of the borders for travelers. As soon as we do receive this information, we will inform you.
The good news is that India and Thailand have started welcoming international visitors again, both countries being the gateways to Bhutan.